This content may use affiliate links. Please refer to my disclosure policy for more info.
After my Free Monogram Fonts post, I had some requests for some free fonts that were licensed for commercial use.
I know how much of a bummer it can be to download a free font and realize you can't use it for those T-shirts you were planning to sell.
So I made a new list with a variety of commercial use script fonts that I really think you'll love!
Every script font in this list is completely free for commercial use – so feel free to use them for your logo designs, branding, T-shirts, and all your other creative personal and commercial projects!
The number one thing you CAN'T do with these fonts is resell the individual font files. I've seen this a lot, and not only is it disrespectful to the artist and all of their hard work, it's also against copyright laws.
Whether you're just starting out your creative business or you're a seasoned professional, I think all of these fonts would be great for your projects!
After downloading the fonts, you might want to bookmark this page, just in case you forget the names of the fonts you downloaded! I know it happens to me all the time!
I find a great font that I love, then I forget the name and it gets lost in a sea of thousands of fonts. Don't let this happen to you!
Update: This post was so popular that it got a sequel!
Free Script Fonts for Commercial Use Vol. 2
If you'd like to save this page, you can pin the image below to Pinterest.
Free Script Fonts for Commercial Use
Queenland
Queenland is a lovely handwritten script font! This font is very smooth and the letters flow together very nicely. This font would be perfect for blog branding, SVG designs, and wedding invitations. If you are looking for a modern script font that is easy to read and free for commercial use, Queenland is perfect for you.
Daisy Script
Daisy Script font is perfect for designs that are meant to be more stylish and feminine. It's a perfect springtime font, and would be gorgeous for branding. This font is free for download from typographer Vic Fieger, and it is easily able to be converted to a web font. Daisy Script is free for commercial use.
Wisdom Script
Wisdom script is genuinely one of my favorite script fonts. It is perfect for long horizontal designs such as banners or for home decor signs. This free font has multiple alternate glyphs, making it very versatile for many design projects. I could see this font making a beautiful logo. The font is very smooth, so it would be perfect for vinyl cutting machines such as the Cricut and Silhouette. Wisdom Script is free for commercial and personal use.
Treasure Script
Treasure Script is a very whimsical and endearing handwritten script font. This font includes punctuation, numbers, and ligatures. I believe this font would be great for birthday party invitations and classroom decorations. If your brand or blog is more whimsical in nature, this font script would be perfect for logos and branding. Treasure Script is free for commercial and personal use.
Clarissa Script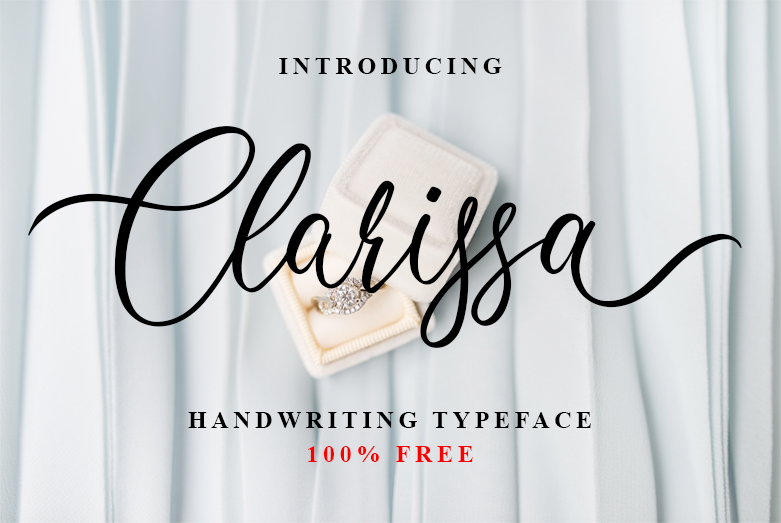 Clarissa is a very elegant font that's 100% free for personal and commercial use. The letters in this font are very bouncy and smooth. The font includes numbers, but does not include punctuation. The typeface would be lovely for design that needs femininity and elegance.
Olivia Script is a sophisticated and graceful calligraphy script font. This free font is jam packed with extras, boasting 351 total glyphs. This typeface would be spectacular for wedding invitations and decor, as well as logos. It would be very easy to make unique and beautiful designs with the many alternates and swashes that this font includes. This script font is free for commercial use.
Anthem is a big and bold display style script that is sure to capture attention. The font includes several alternates and ligatures that will make any design unique and stylish. A great choice for lettering and logos, Anthem will help you create something original and fresh. Anthem is free for personal and commercial use.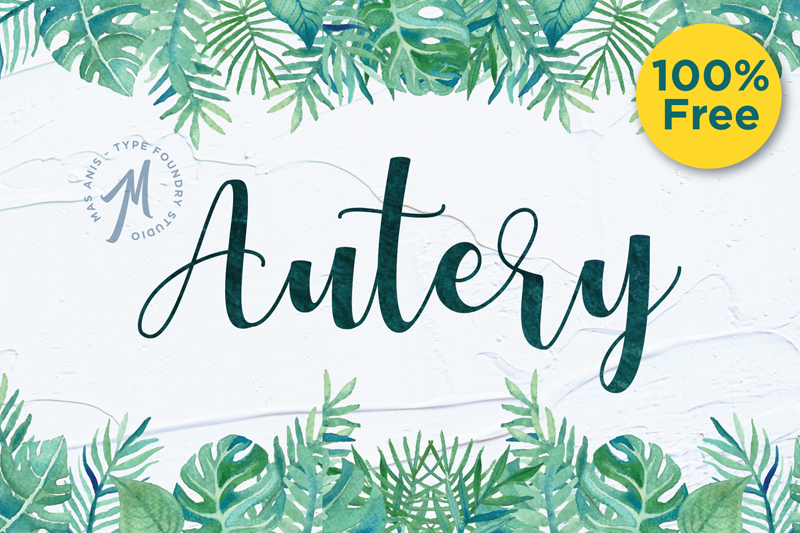 If you're looking for something in between delicate and bold, this calligraphy font is exactly what you need. 100% free for personal and commercial use, this font comes to us from Type Foundry Studio. This upright script is distinct due to its beautiful contrast of thick and thin lines. Autery includes uppercase and lowercase letters, but does not include punctuation or numbers.
Just as the photo says, Pearlye is a playful and bouncy font. It includes whimsical and swirly alternates, as well as ligatures, numbers, punctuation, and symbols. It's also multilingual! Created by PutraCetol Studio, this free script font includes a personal and commercial use license. Springtime and summer definitely come to mind when looking at this font, due to it's airy and charming personality.
Unlike the picture suggests, Sugar is a solid, non-textured font. Jam packed with alternates, this font script is adaptable for just about any project that needs a modern and elegant touch. Sugar includes uppercase and lowercase letters, as well as numbers and punctuation. On the download page there are many examples of how to use this font effectively, and my personal favorite idea is business cards. It would also be stunning for anything wedding related.
Chic is the perfect way to describe Basyirah! A gorgeous mixture of thick and thin lines, this calligraphy font is sure to catch everyone's eye. This font is multilingual, and includes many swashes, ligatures, and alternates. Many of the alternates include hearts, so this font would be fabulous for Valentine's day, weddings, and anniversaries. This script is free for personal and commercial use.
The only free monoline script font on this list, Nickainley is charming and edgy! The quirky little loops that some of the letters have add a lot of personality. Created by Seniors Studio, Nickainley includes letters, numbers, punctuation, and is multilingual. The monoline font has a classic vintage appeal, perfect for design projects that call for something timeless. This script font is free for commercial use.
Created by typographer Khurasan, Abuget is a a beautiful as well as easily legible brush stroke font. This font looks very much like natural handwriting, giving it an authentic feel. If you're the type who likes to leave a signature at the bottom of your blog posts, this font may well do the trick! It includes numbers, punctuation, and is multilingual.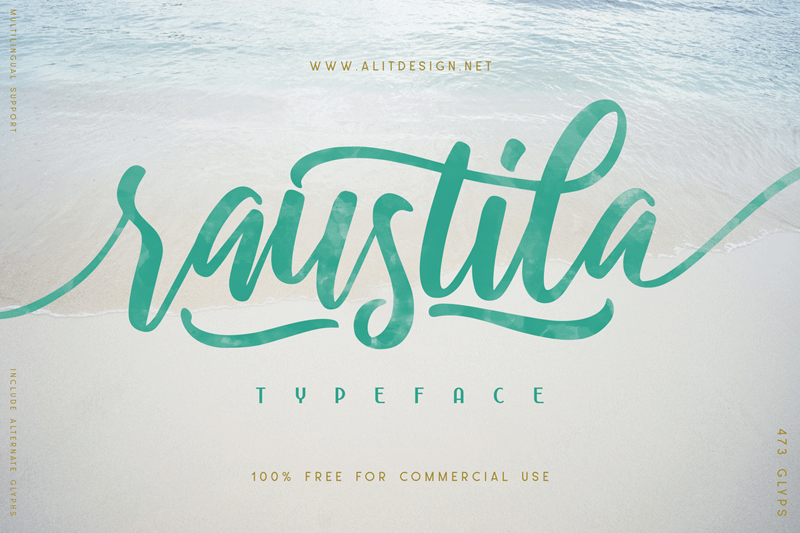 Last, but far from least on this list is Raustila. I love using this font in my design projects, as it's perfect for making SVG files! It's very smooth, making it perfect for vinyl cutting, plus it's packed full of swashes and alternates, making every design unique and original. Raustila is mulitlingual, and has numbers, punctuation, and symbols as well. This is a very beautiful font that I absolutely cannot believe is 100% free.
Disclaimer: Make sure you read the terms of use of these fonts. The terms will either be on the download page, or in the folder after you download. At the time of writing this post, these fonts are free for Personal and Commercial use. However, it's the reader's responsibility to make sure the download has the correct license for their needs.
Not sure about the difference between personal and commercial use? Check out this article.
Thanks so much for reading about these free script fonts! Do you have a favorite free for commercial use script font not listed here? Let me know in the comments!
If you'd like to see more fonts that would make amazing gifts, click here to see my top 14 free Monogram Fonts!